Dinner at Alinea, September 6, 2007
Alinea is in a more upscale part of town than moto, but that doesn't mean it's any easier to find. Spot the world-class restaurant: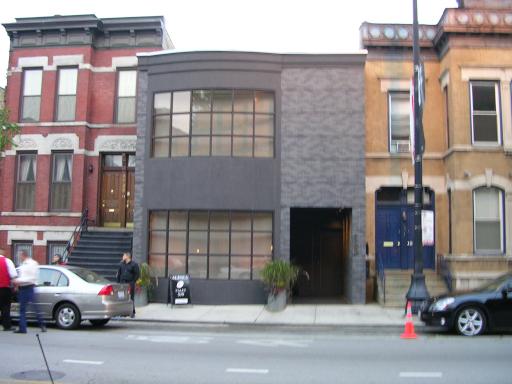 If it hadn't been for the valet sign, or knowing the street address of the place, we would have had no idea it was here. I guess if you don't need casual foot traffic to fill your restaurant, why bother with street-level advertising?
The front door was opened for us, and we walked into a small hallway that looked like something out of Through the Looking Glass. It got shorter and narrower as we walked along it, and had a panel of antennae sticking out at odd angles at the very end. Just when I felt that I had to start ducking to clear the ceiling, two glass doors parted on my left, Star Trek-like, revealing the real entrance to the dining room.
We had miscalculated how long it would take to get to the restaurant, so we got there twenty minutes early. "No problem at all, sir." They showed us right to our table, right by the shaded front windows. We were, in fact, twenty minutes early for a 6:00 PM reservation, so we had the dining room to ourselves for a while.
I had already placed our order three months earlier, when I made the reservation. The choice was between the 12-course tasting menu and the 24-course tour. Since I don't get to Chicago often, the choice was clear; I had to go all-out. Once we were seated, our waiter confirmed that we were getting the 24-course menu, asked if there were any food allergies that they needed to know about, and, finding none, turned away to start the proceedings. I stopped him before he left, asking whether we'd have menus to follow along, because that had been the one real downside of elBulli for me. He said that they preferred not to, since they wanted to let the dishes provide maximal surprise. That was the reason I was given at elBulli, too, so that didn't comfort me. After some pondering, he decided that he could give me something that would approximate the actual meal we'd be served, "but there will probably be some changes from this menu." That was good enough for me. I didn't look too closely at it, since I wanted to be surprised as much as they did, but it made me feel a lot better about the prospect of 24 courses.
Rather than flowers, candles, or a traditional centerpiece, our waiter brought out a couple odd-looking but attractive ornaments and set them on the side of the table: a pair of fresh cedar sprigs stuck into little metal holders, and a couple of key limes "shrink-wrapped" into plastic tubes.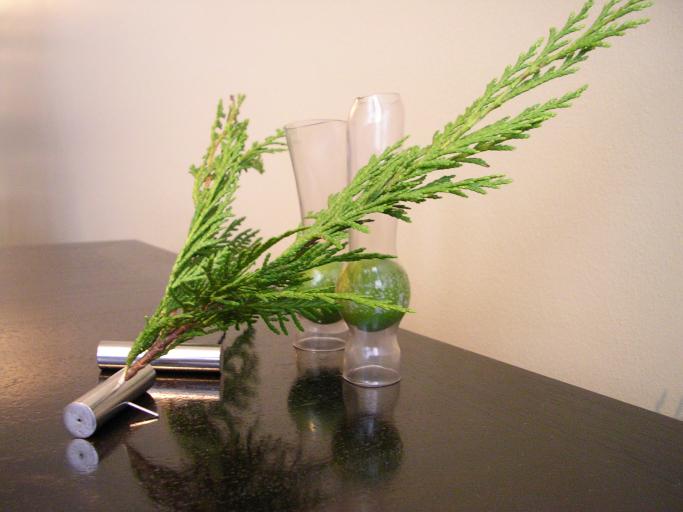 We sat silently, in anticipation. Jesse channeled Morpheus from the Matrix, doing the "bring it on" gesture with a smirk on his face. Before long, the fun began.