Dinner at Alinea, September 6, 2007
---
The first course started unexpectedly, with the presentation of what looked like a monocle for each of us: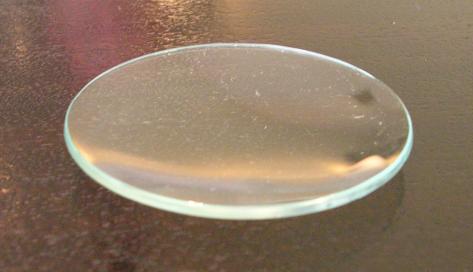 This turned out to be a silverware holder for part of the first course, which we were handed directly: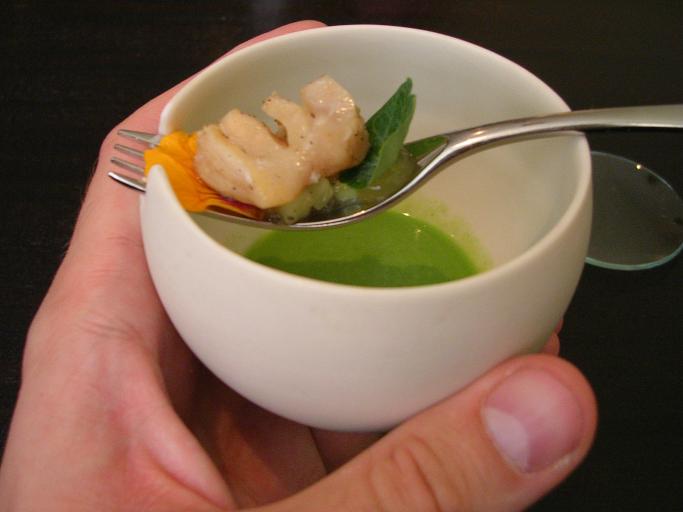 Course 1: "Surf clam / nasturtium, cucumber, shallot"
The bowl was unstable if set on the table with the fork mounted on it. So the "monocle" was a place to set the fork after eating the bite that was sitting on it; we were then to drink the soup in the bowl.
The forkful had a piece of surf clam, cucumber, lemon-shallot marmalade, nasturtium leaf, and nasturtium flower. It was an unexpected collection of tastes, fairly mild but enough to awaken my palate. In the bowl was a bit of nasturtium leaf soup; it was spicy like mustard or radish, but also played up the cucumber in the forkful.
After we finished, they cleared the bowls, forks, and monocles, and brought out the silverware for the next course:
They explained that they didn't want to cover up their gorgeous mahogany tables with tablecloths (who can blame them?), but of course they wanted to keep the tables from getting dinged up by the dishes and utensils used to eat food on them. So they have various gadgets, such as the monocles shown above or these "pillows" for fresh silverware, to keep scratch-prone stuff off the tabletops. The pillows stayed on the table throughout the meal, and new silverware always got placed onto them. Not only did this avoid scuffing the table, it probably also made the waitstaff's job easier, since the courses came on plates of widely varying sizes.
---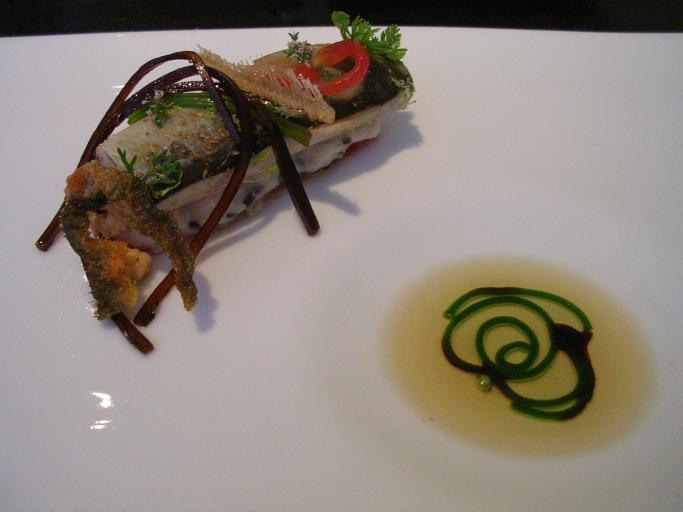 Course 2: "Ayu / watermelon, kombu, coriander"
This dish made it very clear, as if it weren't already, that we were in the big leagues.
The Ayu, sometimes known as the "sweetfish," is prized in Japanese cuisine. As the nickname suggests, it's known to taste sweet, especially when served raw; some people think it has a hint of watermelon flavor. So Alinea went to town with this idea. We were served a piece of ayu (cooked), with a creamy mixture of Japanese barley and sesame underneath and a tile of watermelon under that. On top were some pieces of braised seaweed, the cooked (and edible) spine of the sweetfish, and some microgreen flowers. Alongside was a pool of sesame oil with spirals of liquid seaweed and the braising liquid. (Whew!)
And the fish was sweet! Not candy-bar sweet, obviously, just enough to get your attention. The watermelon matched the fish flavor very gracefully, and the sesame lingered for a long time. There were so many flavors and textures to absorb, and only three or four forkfuls to do it in, but they came together coherently to become a clearly Japanese dish.
This is as good a place as any to put in a disclaimer: I know there are parts of the dishes that I'm not remembering. My descriptions might look like I caught everything the waiters said about the courses, but that's definitely not the case. The waiters' memories were amazing, though.
---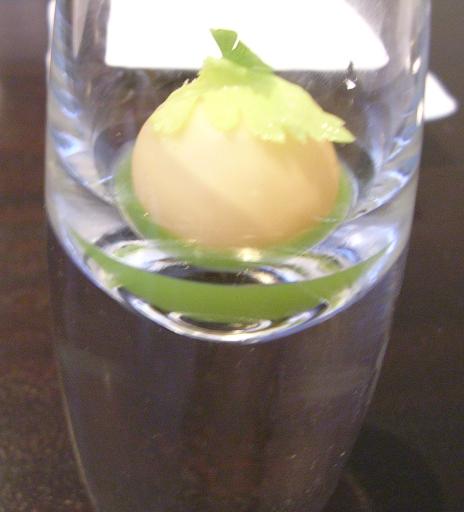 Course 3: "Apple / horseradish, celery"
This was a bit hard to capture with my camera. It was brought out in a four-inch-tall glass with a thick bottom. We were told to take the whole thing in one bite, and to chew with our mouths closed, lest it get very messy. The ball was a hard but thin sphere of apple and horseradish, filled with apple juice, topped with a celery leaf, and surrounded with a strip of lime zest. It broke open easily with a crunch of the teeth, and released a flood of cold, thin apple juice. It tasted a bit like an apple-flavored Bloody Mary.
After this dish they brought out bread plates and butter. This being Alinea, it couldn't be just any bread and butter, of course. The waiters brought out pieces of bread every few courses, different kinds every time, and the breads were supposed to roughly pair with the courses we were eating at the time. I fell behind on eating the bread, because I wanted to save space for everything else, so I can't say how well they paired — but they were tasty. The butter was also something special: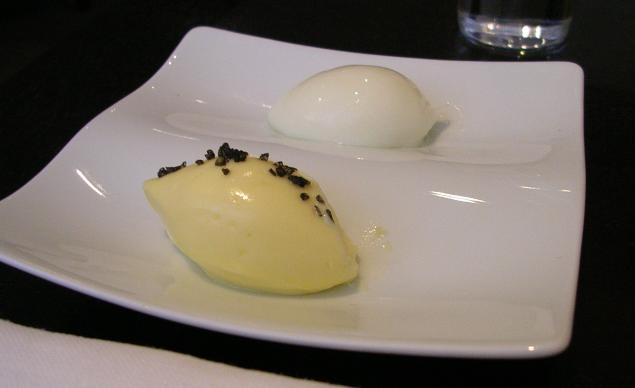 The yellow butter was churned in-house, and was topped with black salt; the white butter was a goat's milk butter from Quebec. The goat's milk butter didn't taste as "goaty" as I might have expected, but that's probably a good thing. Both were very soft.
---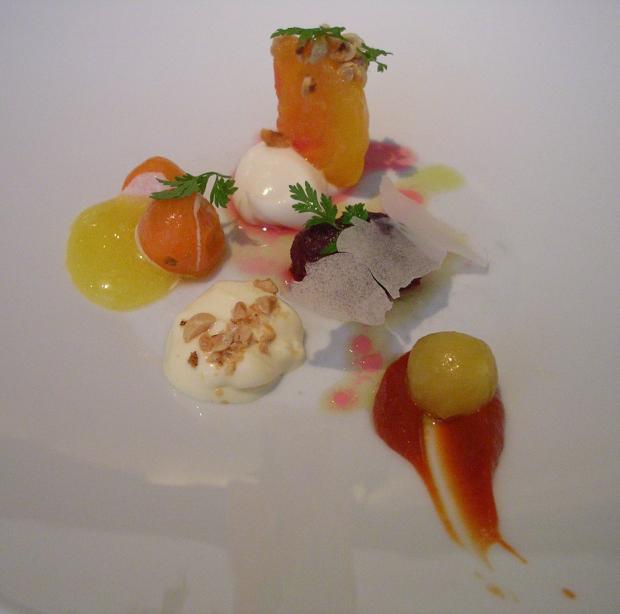 Course 4: "Tomato / plum, sherry vinegar, hardwood smoke"
We were apparently the first table to get this dish ever. It's certainly tomato season in San Francisco, and apparently it is in Chicago too. The dish had many forms of tomato and hazelnut, including peeled yellow heirloom tomato on a spicy ketchup and hazelnut cream with Explorateur cheese. A poached plum sat in the middle. This was served on a pillow filled with smoke of applewood and peachwood:
The pillows were cloth, with (I would guess) a plastic bag with a few holes inside. The smoke leaked out of the inner bag slowly, and the weight of the plate helped push it out. The smoke was beautifully aromatic, but almost too much at first. I thought it really enhanced the tall, juicy piece of tomato at the back of the plate.
As the night went on, and later parties worked their way through the meal, it was fun to watch waiters striding quickly from the kitchen, bearing a tray with two or four absurdly large pillows on top. It could have been a scene in a fairytale or a Wodehouse novel. After the pillows were placed on their destination table and started leaking, we would eventually get secondhand whiffs of the smoke, reminding us of when we had that course. I enjoyed this experience all night long; since several of the courses were tiny, I didn't have as much opportunity to savor them as I would've liked. Watching dishes go by and get described to other parties gave me a chance to think back over them and fill in the gaps in my memory.
---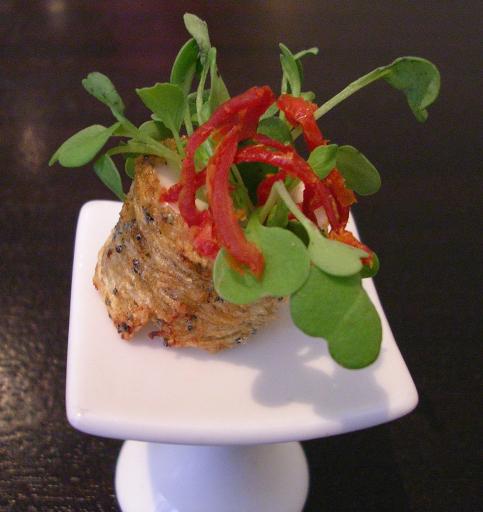 Course 5: "Sardine / black olive, sundried tomato, arugula"
This was a tiny "timbale" of baby Japanese sardines, dehydrated, pressed, and formed into a ring. It was filled with a mousse of Niçoise olives, and topped with sun-dried tomatoes and micro-arugula. It was a single bite, about the size of a button mushroom. And it was potent, pure Provençal, like a pissaladière condensed into a mouthful, but not too salty and not unbalanced. Jesse was speechless for about 30 seconds after this one.
This was (apparently) the first of several appearances of special dishes and utensils designed by Martin Kastner for Alinea. This "pedestal" focused attention right on the little bite.
---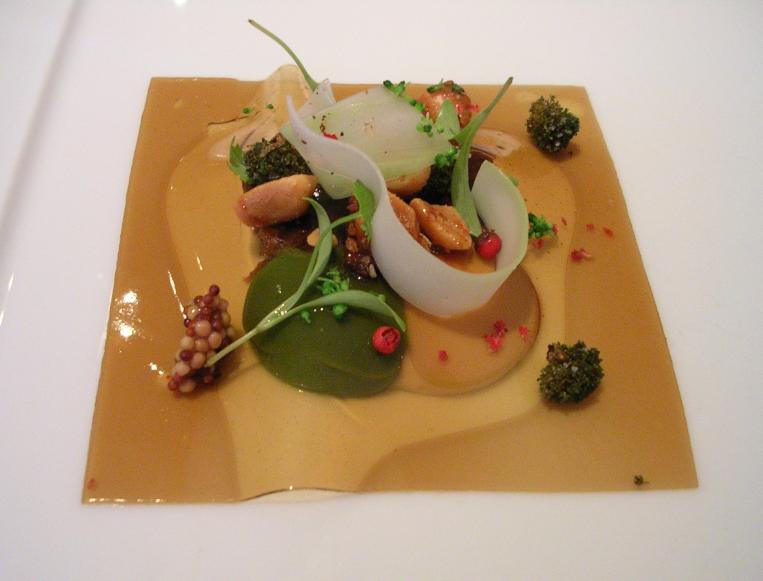 Course 6: "Short rib / Guinness, peanut, fried broccoli"
This was another whirlwind of flavors and textures. The brown square was a solid sheet of Guinness beer. On top of the sheet was a piece of beef short rib, shavings of broccoli, pink peppercorns, clusters of mustard seeds, toasted peanuts, and crispy fried tufts of broccoli. Underneath the sheet were purées of broccoli and peanut. The sheet was slippery-smooth, a striking and fun contrast to all the crunchy stuff on top of it. The flavors came together as unexpectedly Chinese, with the peppercorns and mustard seeds providing heat and the beef and purées giving richness. It was fantastically good.
---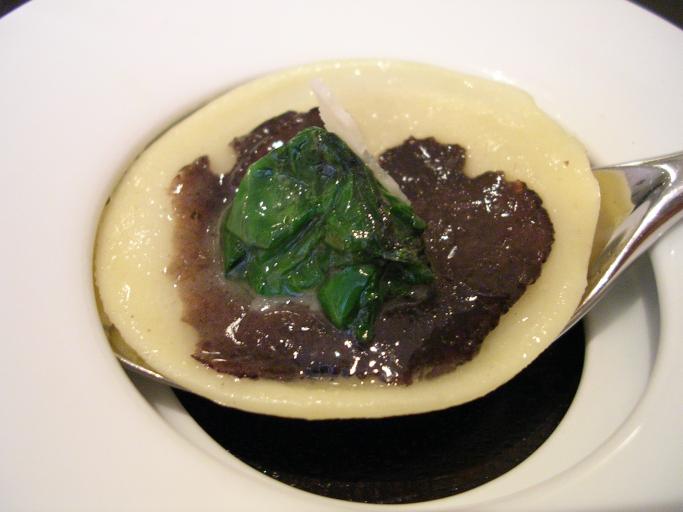 Course 7: "Black truffle / explosion, romaine, parmesan"
A single raviolo, filled with black truffle "tea," topped with a shaving of black truffle, caramelized romaine lettuce, and a sliver of parm. This was another one to be had as a single mouthful (no biting!) because of the liquid inside; it was served on its own spoon. There was no pretense of flavor balance here — just a one-note wallop of pure truffly goodness with an explosion of liquid.
---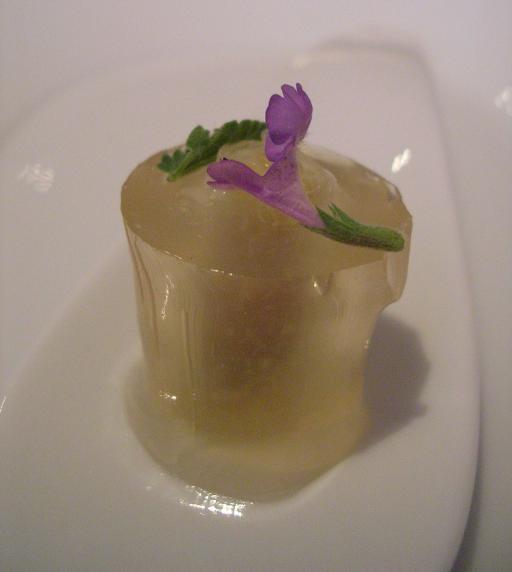 Course 8: "Honeydew / Blis sherry vinegar, mint"
A cylinder of mint tea gelée, with a rolled-up slice of honeydew melon in the middle, and a couple drops of sherry vinegar inside the slice of melon. One small bite, but powerful contrasts: tender gelée, but crispy melon, and a light, cold, and fruity exterior against a pungent interior. Something (maybe the flower?) was distinctly salty, too.
---
I didn't notice it at the time, since I was seated with my back to the window, but apparently at about this point in the meal the sun went down. Although the artificial lighting inside was good enough to make the transition subtle, the white balance on my camera sure picked up on it. Oh well...
Course 9: "Rhubarb / goat milk, beet, long peppercorn"
Several different forms of rhubarb. The first one had to be eaten very quickly, so I only got a blurry picture: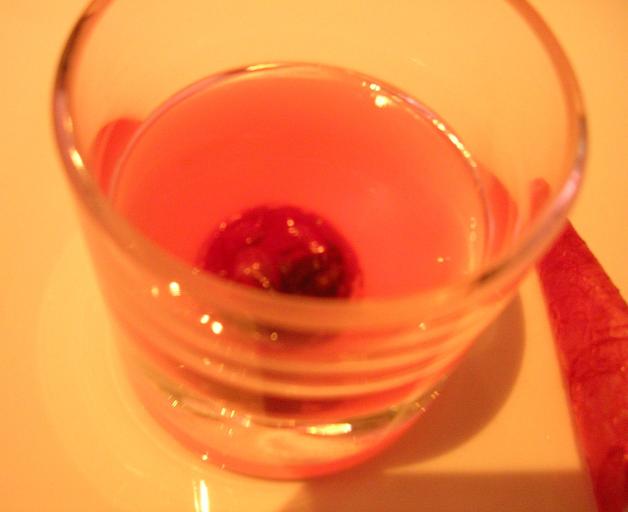 This was a ball of hot beet juice, in some thin wrapping, dropped into a glass of cold rhubarb juice. It was to be taken as a single shot. BAM! Not only tangy vs. earthy, but also hot and cold liquids in the same mouthful. Jesse said, "This gave me my first spine tingle of the night."
As for the rest:

Left to right, we had: a crunchy "fruit roll-up" of rhubarb, a slice of rhubarb soaked in gin, with a juniper berry on top; rhubarb foam with citrus bits, served on a bay leaf; some crunchy gelatinous square of goat milk, with rhubarb gelée on top; rhubarb ice cream on top of hazelnut paste; and rhubarb jelly with fennel fronds and matcha foam. I especially liked the gin-soaked slice and the ice cream/nut paste for their intensity, and I was intrigued by the last one because it somehow came out tasting a bit cinnamony. The beet juice ball topped them all, though.
This course probably had more odd "utensils" than any other: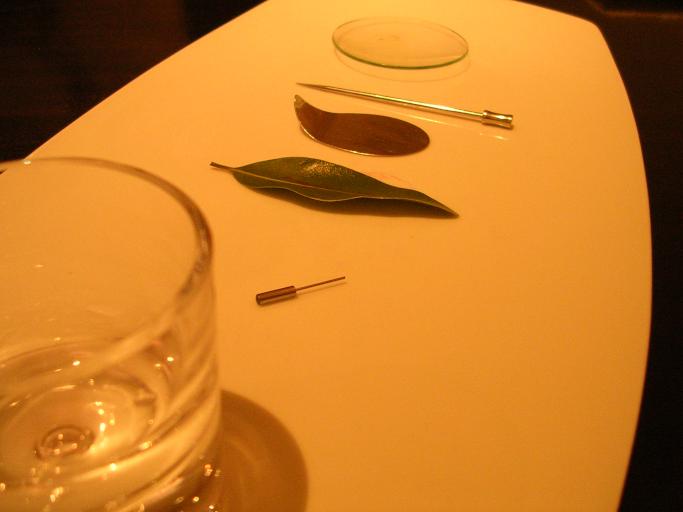 ---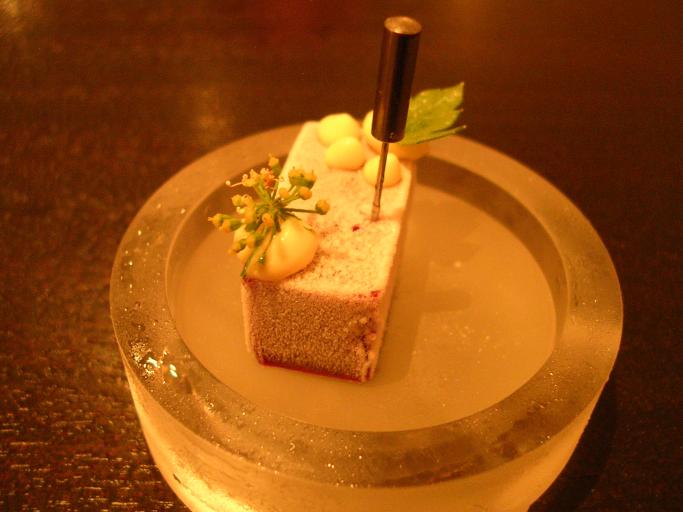 Course 10: "Huckleberry / frozen and chewy, lemon, parsley"
A piece of frozen huckleberry cake, with drops of lemon purée, parsley leaf, and parsley flower. It had frost (!) for "frosting." It was really, really cold, but avoided being rock-hard; it was chewy like a caramel. I lost the pieces of parsley in my mouth, but Jesse said he bit down on them directly and definitely noticed. To give some perspective, the metal skewer used to pick up the piece of cake is the same size as the one in the previous dish, where it's much smaller than the bay leaf.
---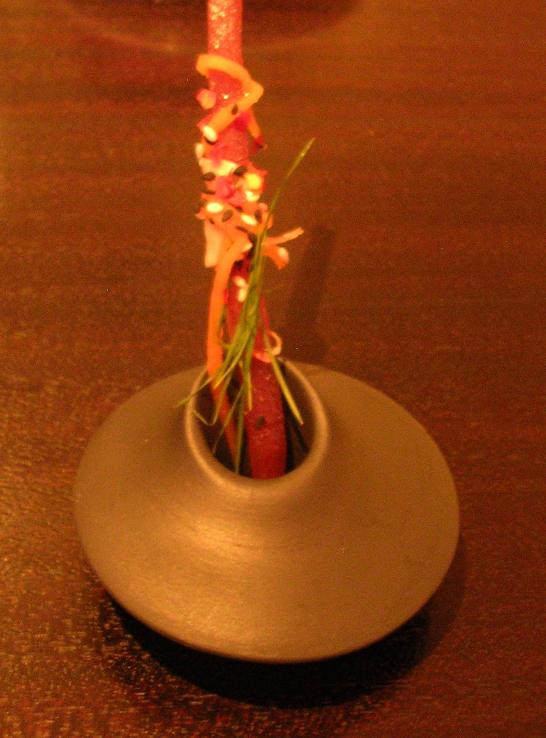 Course 11: "Tuna / candied and dried"
A stick of "tuna jerky," coated in the seasonings it was "cured" with: ginger, orange, hot pepper, and sesame. It had the texture of candied orange peel, and the pepper gave it plenty of heat.
This was finger food, so they brought out hot, moist towels to clean off with afterwards:

---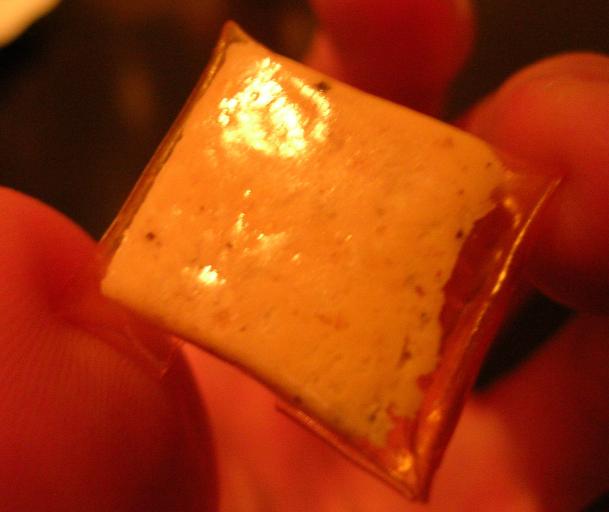 Course 12: "Pineapple / bacon powder, black pepper"
This was the tiniest course of all, about the size of a dime. Dehydrated pineapple and bacon powder were wrapped up in something pineapple-flavored. I don't think it was actually mandolined pineapple serving as the "raviolo"; it was more like a fruit roll-up in texture. It was very bacony, and bits of the pineapple wrapper stuck to my teeth for several minutes afterwards.
---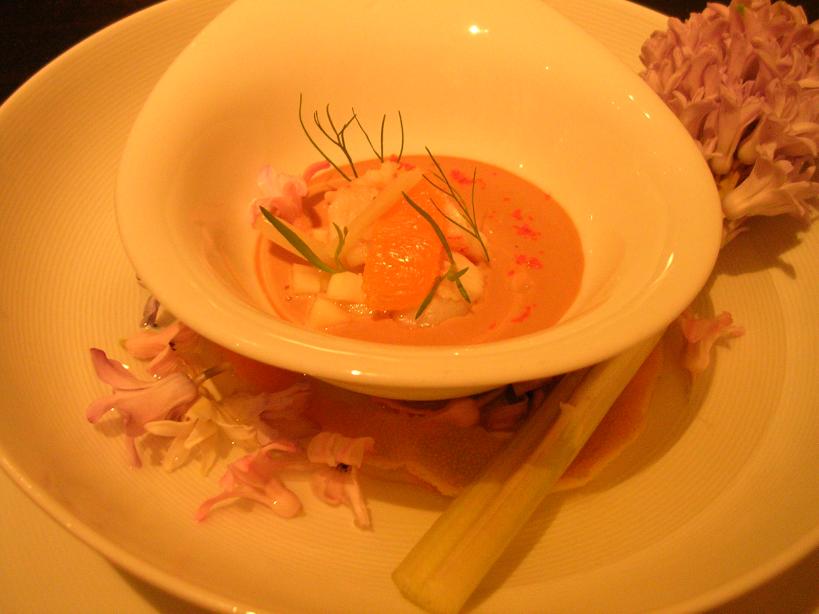 Course 13: "Lobster / sunchoke, orange, hyacinth vapor"
One of the fancier plate arrangements of the evening. The outer bowl is filled with hyacinth blossoms and orange peel. Once the dish was presented, the waiter took a pitcher of boiling water and poured some into the outer dish, releasing the aromas of the flowers and the orange. Next, we were given a long thin skewer, with a cube of orange gelée and fennel flower at the end, and were told to eat it immediately, to prepare our palate for the rest of the course. The waiter stood there waiting for me to eat it so he could take the skewer, so there was no picture of that.
Finally, it was time for the actual dish: lobster, lobster mousse, sunchoke purée, fennel fronds, tarragon, and raw jicama. Sound good? This was not just one of the best foods that I've ever eaten, this was one of the best sensory experiences of any kind that I've ever had. It brought tears to my eyes. When cooking at home, I've imagined dishes that use two or three really flavorful, rich, luxurious ingredients, but I usually nix the idea, thinking "nah, the sum would be less than the parts." This dish was of the same conception, but it didn't hold back. The potent hyacinth aroma, the lobster, the tarragon, and the richness of lobster mousse were all potent on their own, but the combination was downright intoxicating. It was almost too much to take in at once.
Jesse said, "That dish reminded me of being high."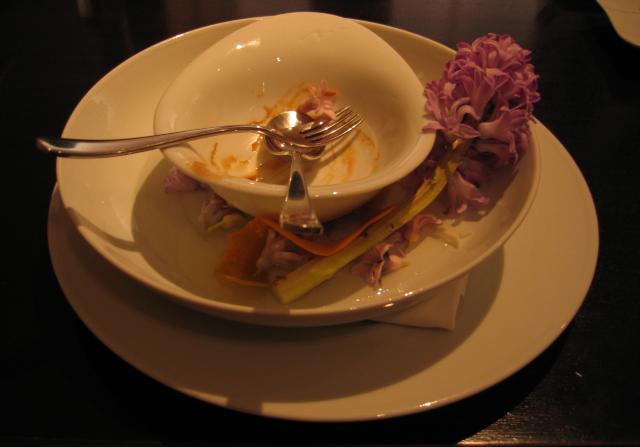 ---
And that's only half of the meal. Here's the rest...