Dinner at elBulli, May 25, 2005 - part 1
I had the great fortune to have dinner at Restaurante elBulli recently. I've been wanting to go to there for a few years, and in the beginning of October 2004 (when the restaurant closed for the year) I started to think that I should try to go sooner rather than later: I was getting close to "fully banked up" on vacation at work, I was worried that my United frequent flier miles might vanish into bankruptcy court, and I knew someone else that was interested in creative food and wanted to come along. So thanks to a tip posted to eGullet by a stagiere at elBulli, I sent in a reservation request on October 14th, and got a reply a month later saying that I was confirmed for a party of two on May 25th, 2005. Quite a wait, but that gave me plenty of time to plan the trip.
We timed the vacation around this dinner at elBulli, but we spent time in Nice, Barcelona, San Sebastian, and Paris as well -- a month, all told. We tried to avoid renting a car, since we would be in big cities for most of the trip, and we were happy to discover that elBulli could be reached this way too. The restaurant is located outside of the city of Roses, Spain, in a place called Cala Montjoi. Roses itself is about 10 miles south of the border between France and Spain, on the Mediterranean, and Cala Montjoi is a 20-minute drive on a one-and-a-half lane road from Roses. We had taken a train from Barcelona to Figueres, and a bus from Figueres to Roses, and we got a taxi to take us from Roses over to Cala Montjoi. This let me take a few pictures of the view on the way: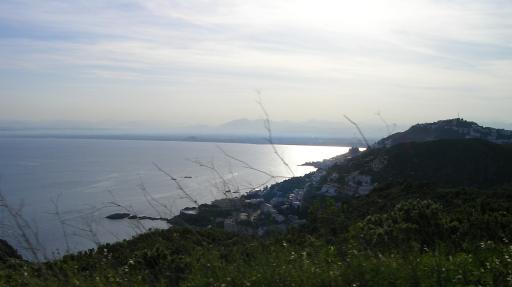 The windy road from Roses runs through the Parc Natural de Cap de Creus, over some significant hills with gorgeous views of the Mediterranean and the northern Costa Brava region.
---
When I was getting arrangements for the taxi ride at the hotel, I asked if I would need to provide detailed directions to the cab driver. The woman working the desk said "no - Bulli is Bulli". Its fame aside, it wouldn't even be too hard to find by knocking on every door in Cala Montjoi. Cala Montjoi, from what I can tell, is little more than a beach. There are two roads that meet there, and a handful of buildings, but I wouldn't even really call it a village.
We had arrived at the restaurant about half an hour early for our 8:00 seating, so we walked around and took in the view. We could see the beach from the parking lot of the restaurant, and there were lots of kids on the beach having a great time. We were a couple hundred feet up the cove from the swimming area, and it was pretty beautiful: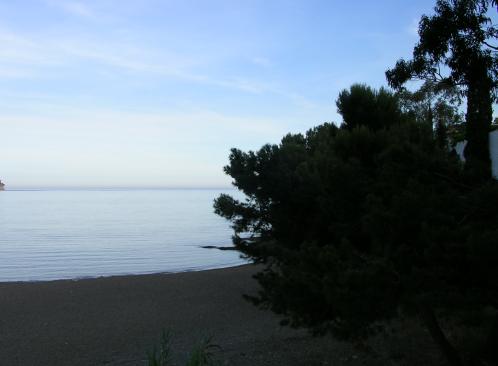 A fine place for a world-class restaurant.
---
Eventually we decided we'd done enough looking around, and we were impatient to start the main event. We stepped in the restaurant around 7:40, and were quickly received. As soon as our reservation was checked, the server who greeted us asked if we wanted to see the kitchen. I was surprised and very pleased, but in retrospect it's not too shocking. Those of us who come here aren't just popping in for a quick bite; we're here because of the wacky stuff going on in the kitchen, and we want to see a piece of the action.
We were told that we could take our time and look at whatever we wanted, and the staff was uniformly courteous to us interlopers, but I had no desire to get in the way just as things were starting to heat up. I did take a couple quick and blurry pictures, though: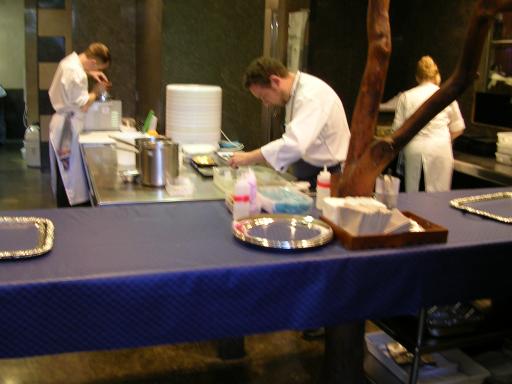 Concentrating on prepping a dish. Not sure what's up with the tree.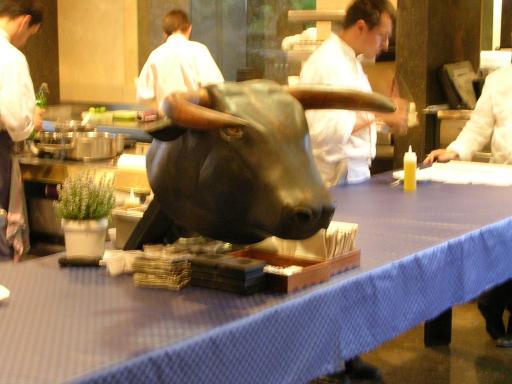 The famous carved bull's head.
---
Since it was still light out when we arrived, they suggested that we take our first courses on the patio. As far as I'm concerned, that's reason enough to request an early seating. The patio has a gorgeous view of the beach at Cala Montjoi, and the sun was setting as we started our meal.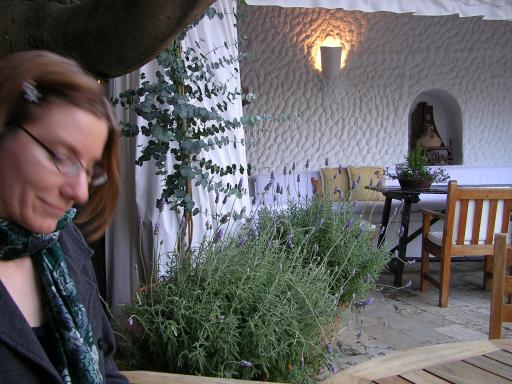 My dining companion, R, at our table on the patio.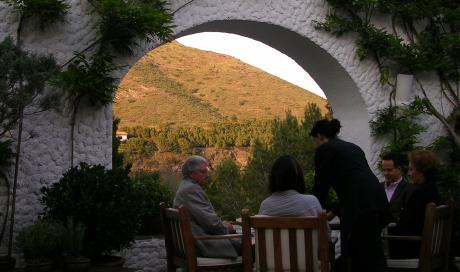 Other guests enjoying the sunset along with their initial courses.
---
While we were enjoying the view, we noticed that of the five or six parties seated on the patio, at least one person at every table had a camera, and they weren't just taking pictures of the scenery. I had already been planning to take pictures of the food, but seeing that others were doing the same made me less self-conscious about it. I had told dozens of people about this meal, so I figured I'd better take plenty of pictures for all the people who'd be dining vicariously with me.
When I confirmed my reservation a week before the meal, I mentioned that R didn't eat beef, chicken, or ham. As we were sitting on the patio, a waiter came to our table and confirmed that there was a special menu for her. He also pointed out to me that one of the main dishes on my menu featured a "very special and rare ingredient", lamb brains, and he asked me if I was okay with that. I hadn't had brains before, but this seemed like a good place for experimentation, so I told him I'd try it. Finally, he told us that he would give us copies of our menus at the end of the evening, but that they preferred not to give them out until then, to keep the dishes a surprise. This was the one thing about the night that I wish I'd done differently -- about which more later.
Shortly after the waiter left, the food started arriving: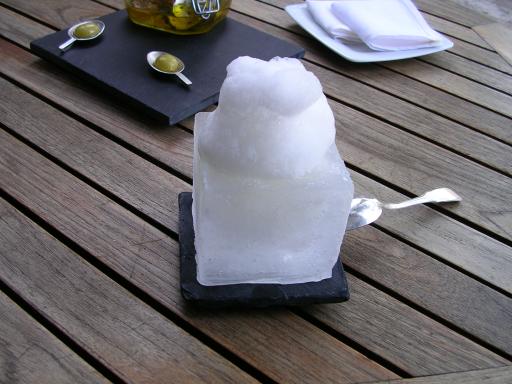 Course 1: "margarita 2005"
(The names of the courses are from the menus, which were in Spanish, and any English translations are my own best guesses.)
Margarita ice flakes with salt foam, served in a "glass" made of solid ice. To get the right effect, we're supposed to dig all the way down through the foam to get to the ice. It was a little hard to get some from each layer, since there was only about a centimeter of the margarita ice under the tower of foam, but it was a neat way to start.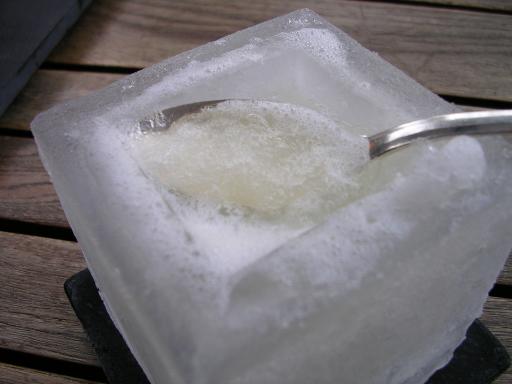 This is what the margarita ice looked like, buried under the foam.
---
Courses 2 through 7 were brought out all at once. Most were just a lot of fun, and we were still getting used to experiencing these little morsels, so we don't have too much to say about them - with the exception of this one: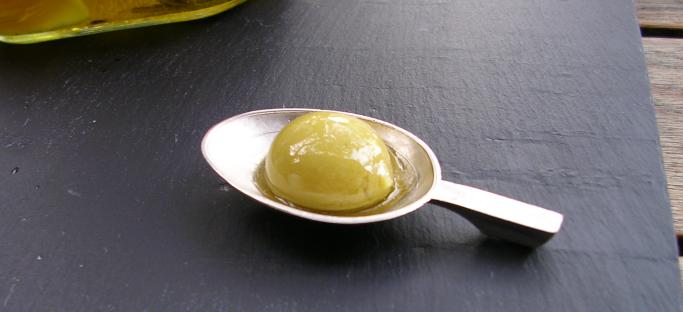 Course 2: "olivas sféricas" ("Spherical olives")
This is the course that I've been telling everyone about. I think it's a very succinct expression of a philosophy I associate with elBulli's cuisine: doing nature better than nature. (I'm paraphrasing a comment that Ferran Adrià made on an eGullet Q&A session: "I can make an asparagus soup which will taste more like an asparagus than the actual product. This is my dream, and sometimes I get it.")
The olives were presented in a glass jar that was filled with olive oil and herbs. The waiter pulled out two olives from the jar and set them on the serving spoons (visible in the background of the first picture from course 1). He mentioned that there were two more olives still in the jar, "in case we wanted another". (We did, of course, want the others. Later in the evening, we saw some other diners get this course, and were amused a few minutes later to watch them jealously guard the jar from the server, because they hadn't had a chance to have their second olives yet.)
These olives are the same shape, size, and color as regular green olives. But in fact, they are very soft hollow gelatinous balls filled with the most intensely olive-flavored olive oil I've ever tasted. When I slurped one up, the "olive" burst with the slightest pressure of my tongue, causing the velvety oil to coat the inside of my mouth. I gasped.
This dish is technically virtuosic but not show-offy -- and at the same time it's totally hedonist.
---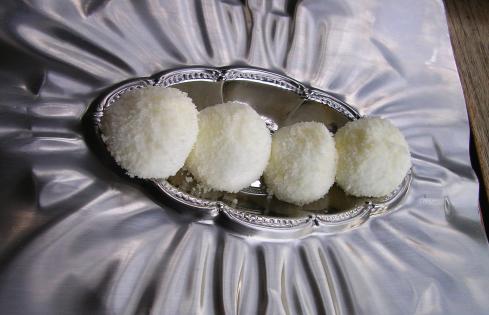 Course 3: "marshmallow de parmigiano"
What Hostess Snowballs dream of being. Light as air, melty in the mouth, with a feathery, almost powdery, coating. Chewy enough for about one chew before they started to fall apart. And, of course, not sweet at all. The flavor didn't have anywhere near the raw punch that an unadorned piece of aged Parmigiano-Reggiano does, but it had the right idea.
---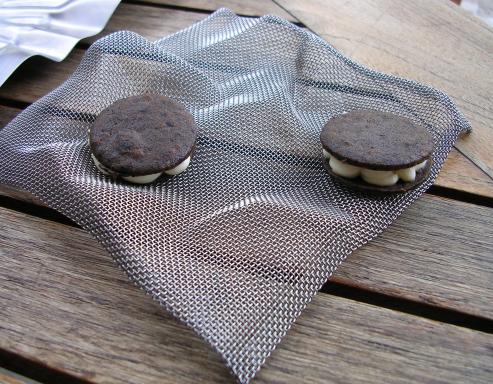 Course 4: "oreo de oliva negra con crema agria" ("Black olive Oreo with sour cream")
Pretty amusing - it looks like an Oreo, but it tastes about as different from an Oreo as could be imagined. The cookie was nicely flaky.
---
Course 5: "lazos de remolacha con polvo de vinagre" ("Beetroot bows with vinegar powder")
A hard, translucent ribbon of beet "candy" with vinegar powder and salt. Melted slowly as it was eaten. Great flavor balance between earthy, sour, and salty. R swooned over this one, as she loves beets.
---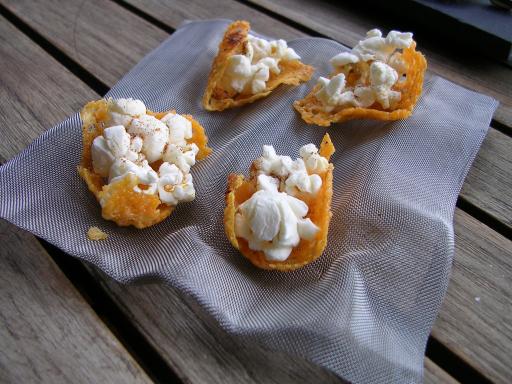 Course 6: "palomita de queso" ("Cheese popcorn")
Deconstructed cheesecorn - popcorn on a web of cheese, topped with some red powder.
---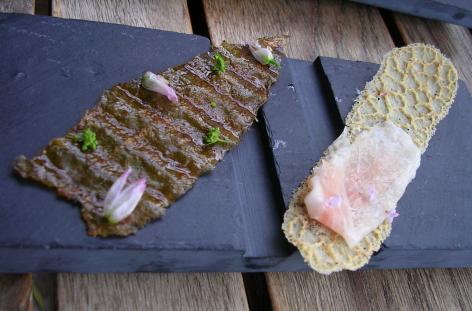 Course 7 for R (left side of picture): "piel de lenguado planchada al ajo y perejil"
("Grilled skin of sole with garlic and parsley")
Course 7 for me (right side of picture): "arlette iberico"
Crostini without bread, perhaps. R's was made of crispy fish skin, and she thought it was topped with chive, broccoli, and some sort of flower. Mine was of something like pork crackling, and was topped with a tissue of jamon ibérico and some tiny flowers. They were so ethereal (each one was about the size of a finger or two) that it was hard to say a lot about the taste - not much more than "fishy" or "hammy". This one was more about the looks for me.
This is one of four courses where R and I were served completely different things, since of course my dish had ham. However, when I looked over my menu more closely the day after the meal, it seemed that I had been given R's menu, and she had been given ... a very similar menu, though not one that exactly described my meal. So in this case, and for three other courses, I'm borrowing the course name from other meal reports posted to eGullet, and hoping I'm getting the right thing. The descriptions are all R's and my own, though.
---
Course 8 (unpictured): "caramelo de aceite de calabaza" ("Caramel of pumpkin-seed oil")
This is the only one I didn't have a picture of, because they brought them out and encouraged us to take them and eat them immediately. It's a shame, too, because they were beautiful. Each one looked like a sugar sculpture of a cherry: a bulb on the bottom, with a three- or four-inch-long very thin pointy stem sticking straight up, made of dark crystallized sugar and garnished with a little bit of gold leaf. The bulb was crunchy, and inside was a little flood of warm pumpkin-seed oil, coating the mouth just like the spherical olives did. This was just as breathtaking as the olives, plus it had texture contrast.
---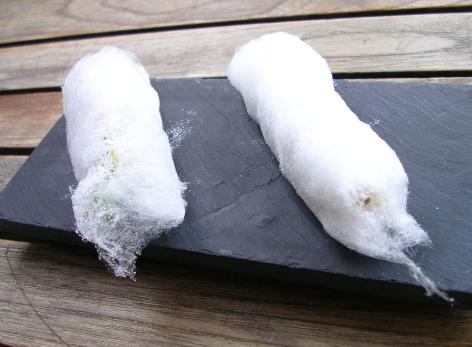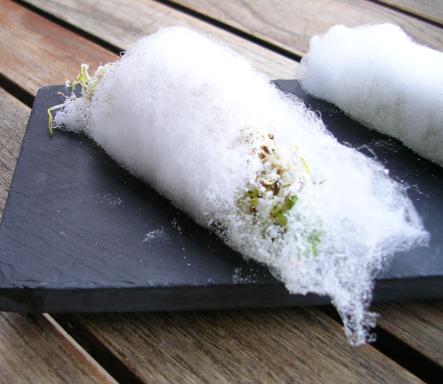 Course 9: "ninfa de algodón" ("Cotton nymph")
Cotton candy filled with Thai veggies, herbs, spices (fennel at least), sprouts, nuts, and a dark brown tamarind sauce. Basically a really fresh and slightly sweet spring roll!
The second picture shows a little more of the insides of the roll.
---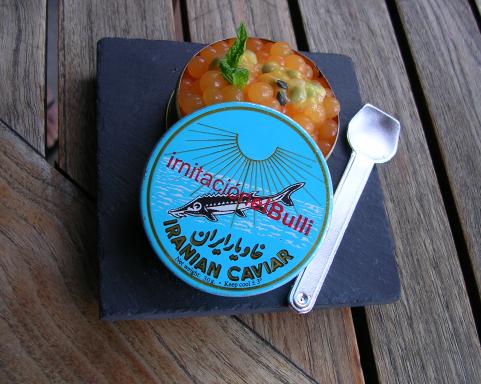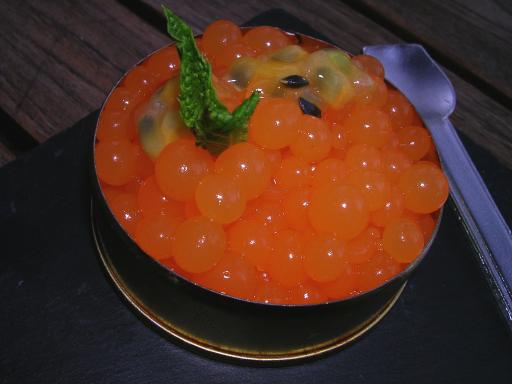 Course 10: "caviar sférico de melón" ("Spherical melon caviar")
This dish has gotten a fair bit of publicity over the past few years, and I had a version of it at a restaurant called Antidote in the SF Bay Area, so I was glad to have a chance to try the original. The "caviar" are little gelatinous balls which pop in the mouth like real caviar, but they taste like fresh melon. They're garnished with a tiny mint leaf and passion fruit seeds, which add flavor and texture contrast. R was beside herself with glee, as they're a lot of fun to eat, and she likes anything with passion fruit (as do I).
For perspective, the tin is probably two or three inches in diameter.
---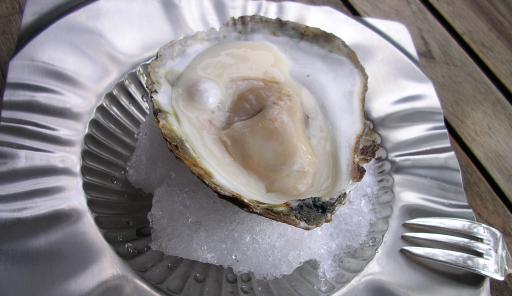 Course 11: "ostra con su perla" ("Oyster with its pearl")
A gigantic oyster, served with a creamy sauce of oyster and a soft silvery bubble (another "sférico") filled with oyster/oceanic liquid. I'm sure it would have been interesting to have all three at once, to get several striking textures of the same flavor at the same time, but this was by far the biggest oyster I've ever seen, and it was a mouthful by itself.
---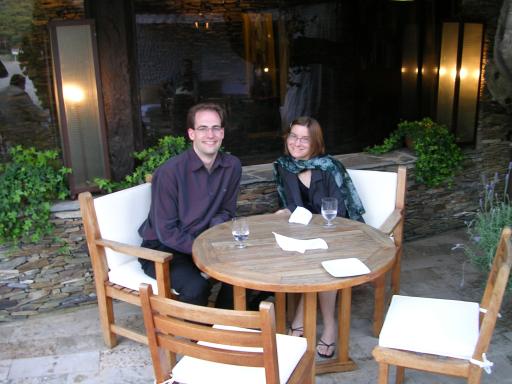 My dining companion and I, on the patio. We've just finished the oysters, and it's time to step inside to the dining room.