Dinner at elBulli, May 25, 2005 - part 2
R described the dining area as being like the dining room of a good friend who happened to have a whole lot of money and a house on the Mediterranean. Now I, for one, don't have any super-rich friends with houses on big bodies of water, but I like her description. It does feel more like a large, comfortable house than a temple of futuristic cuisine.
Since we were one of the first parties to arrive, we were also one of the first to move inside. Here's what the dining room looked like before it filled up with people: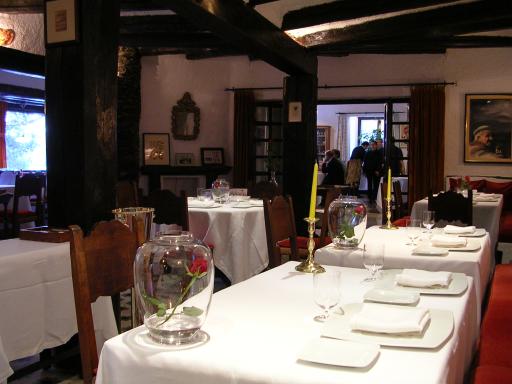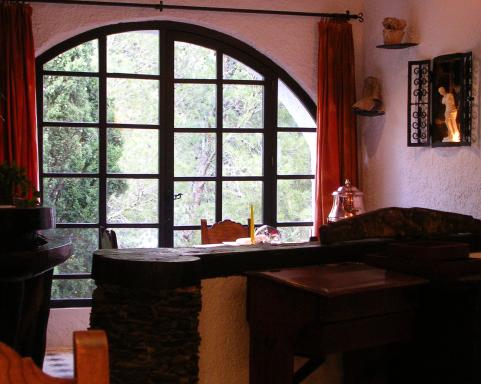 The roses were interesting. The waitstaff took the rose away (for parties of two) if the two diners sat on the opposite sides of the table, and left it there for some people sitting on the same side. I didn't think of elBulli as being a particularly romantic destination, and maybe they were just there as a tribute to the nearby town of Roses, but then why did they remove some of them?
---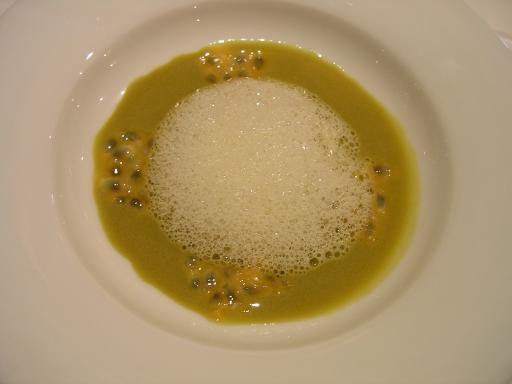 Course 12: "pasión por la aceituna" ("Passion for the olive")
A green olive puree/soup with passion fruit seeds and olive foam. The green olive flavor was strikingly strong and pure, but the passion fruit stood up to it. Again, the seeds added interesting texture. The pairing was salty, tangy, crunchy, unexpected, and I think it went well. The only downside was that the passion fruit flavor came out someone one-sided -- just tangy -- and I'm always in favor of more passion fruit.
---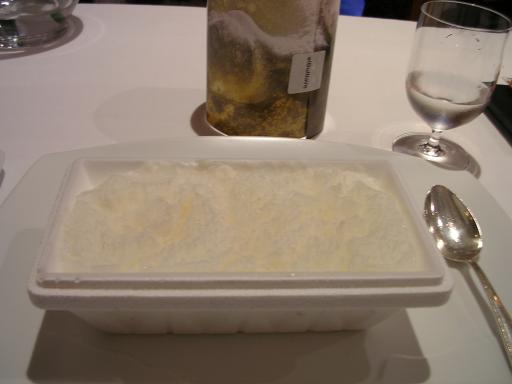 Course 13: "pan de queso" ("Cheese bread")
This dish was brought out in two parts: a clearly very cold styrofoam "casket" wrapped with a decorative piece of paper, and a plastic ziploc bag full of nuts, apple chips, and dehydrated raspberries. The waiter carefully removed the paper and set it on the table as a souvenir (next to my water glass in this picture; the sticker on it is labeled "elBulliaire"), opened the casket, and set it on the plate. We were instructed to sprinkle some of the "muesli" from the bag on top of the "bread", replenishing it as necessary, but the two were to be eaten together.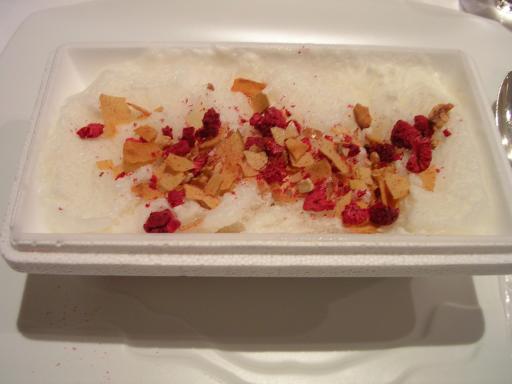 As you might guess, this isn't any ordinary cheese bread. The casket contained frozen cheese air - a substance dense enough to support the muesli which requires some scooping to get out of the casket, but which vanished within seconds inside the mouth, turning into pure flavor and just enough moisture to rehydrate the muesli a little bit. The cheese tasted like asiago - cheese you might have on cheesecorn, or on a loaf of cheese bread (natch). It was disorientingly savory, I guess because my closest comparison is ice cream.
Another work of technical genius, though not quite as lascivious as the "olives".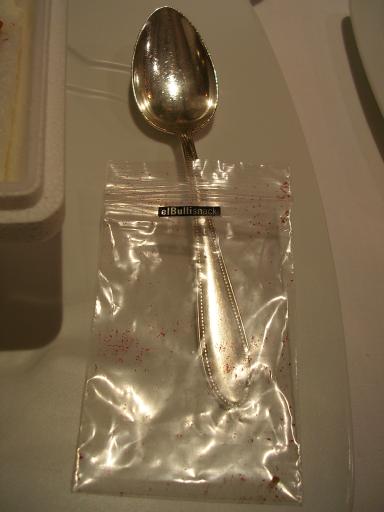 The bag that the muesli came in.
---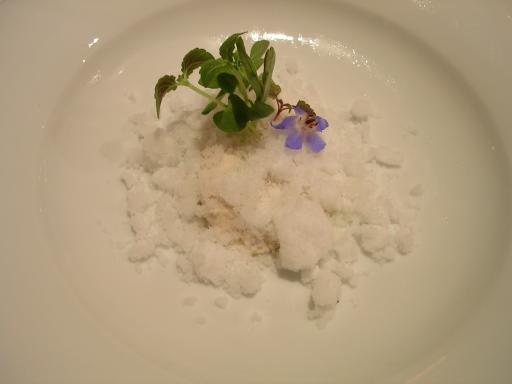 Course 14: "deshielo 2005" ("Thawing 2005")
Our waiter gave this one the slightly more poetic English name of "Water down the mountain".
Pine nut ice with pine nut cheese, topped with sunflower and basil sprouts and a blue borage flower. The "ice" is the white fluffy stuff, which had a very, very clean, almost puckery flavor of pine. R said "I'd swear I was tasting pine needles!" The "cheese", which was also very cold, is the beige stuff underneath; it had the texture of cheese and the flavor of very fresh pine nuts. They deconstructed both a pine nut and ice cream in the same dish! Pretty remarkable.
---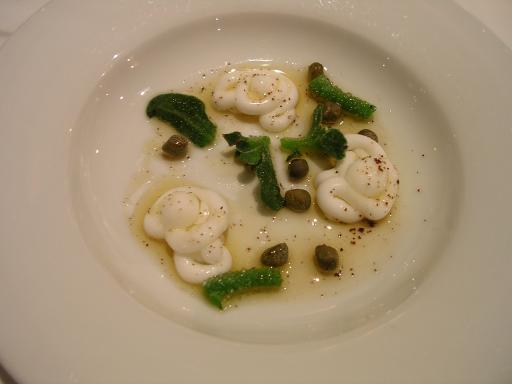 Course 15: "nudos sferificados de yogur con ficoide glaciale, alcaparras y beurre noir"
("Spherificated yogurt knots with ice plant, capers and black butter")
Judging from the name, I'm guessing the "knots" use the same (mysterious) process as many of the other "spherical" dishes on the menu. They felt similar to the olives, for example, but had a little stronger "skin", as if they had been briefly fried. Lots of strong flavors here - tangy warm yogurt, capers, fat sea salt crystals, and delicious butter. They went well together. I was unfamiliar with the ice plant; it looked like it had lots of tiny water drops stuck to it. I don't know if that's how it looks naturally or if this was a wacky preparation, but it added more crunch than flavor.
---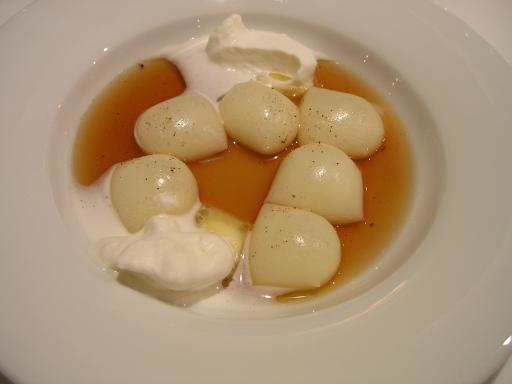 Course 16: "ñoquis sféricos de patata con consomé de piel de patata asada"
("Spherical potato gnocchi with consommé of roasted potato skin")
This also came with whipped cream and two "butter ravioli", which you can see peeking out from each dollop of cream. We were instructed that the gnocchi and the ravioli were to be eaten in single bites, that is, we shouldn't try to bite one in half. That certainly would've been messy, as the "gnocchi" were thin gelatinous "bags" completely filled with a potato foam/puree, and the ravioli were some transparent wrapping around a little pat of butter. And the consommé! Oh, that consommé! It was clear that it wasn't just made from potatoes, or potato skins, but rather, as advertised, roasted potato skins. Roasted potato skins from heaven. The gnocchi did the wonderful burst-in-the-mouth thing, contrasting their potato flavor and texture against the consommé, and the butter and whipped cream added delicious richness.
The best baked potato in the universe.
---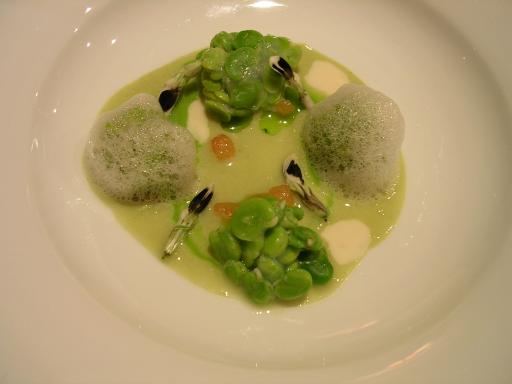 Course 17: "albóndigas de habitas con jugo y flor de haba"
("Meatballs of little favas with juice and flower of fava")
Could also be called "fava beans five ways". Included plain favas, plus their puree, foam, juice, and flowers. The plain fava beans were somehow stuck together (maybe using bean starch?), to give them a texture somewhat like a meatball. My dish included a few bits of ham and some ham-flavored cream; R's had no ham.
The beans were aggressively green in flavor, and to my taste had an unresolved bitterness. The ham helped temper the bitterness some, but not as much as I'd like. R didn't mind the slight bitterness; she said that maybe she just likes favas more than I do. She also pointed out that the puree was sweeter than the other forms, maybe because it had been cooked longer. We agreed that this dish was "intellectual, but not hedonist."
---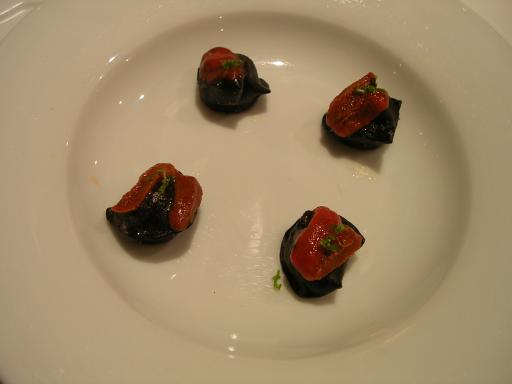 Course 18: "ravioli de malta con mantequilla, erizos y lima"
("Malt ravioli with butter, sea urchin and lime")
Ravioli made of malt (the black stuff), filled with warm liquid butter and grains of salt, and topped with sea urchin, lime zest, and lime juice. I don't know what they do to malt to make it into a liquid-tight ravioli, but it was a little nutty and quite chewy. The butter, and especially the grains of salt, inside the ravioli hit with a punch, and the lime asserted itself a little bit at the end. The sea urchin was buried under the rest of the flavors, although it might have been contributing to the salty punch.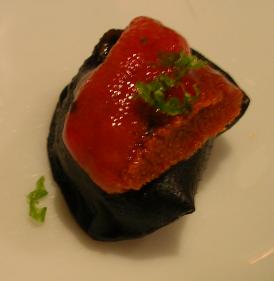 Here's a close-up view of a single raviolo. It's about the size of a nickel.
At this point, we're both starting to feel pretty full. But the main courses are just starting to arrive!
---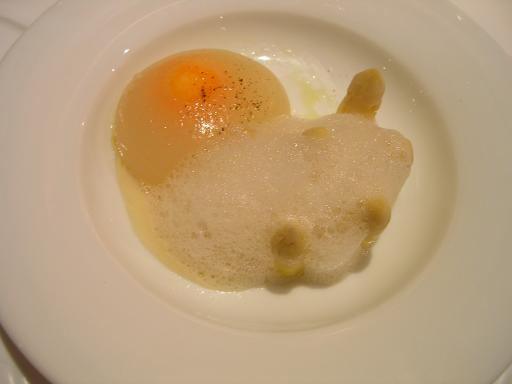 My course 19: "esparragos blancos al aceite de oliva" ("White asparagus with olive oil")
This is another place where our menus diverged, so I'm guessing at the dish's title, and I didn't even do a very good job of figuring out what was going on in the dish. I thought the waiter said that there was an egg yolk involved, but that may have just been what it looks like. My best guess was that it was a raw egg yolk infused with truffle, encased in asparagus-flavored gelatin, with a few heads of white asparagus and a truffle foam. The truffle flavor got all over everything after a while, and although it was delicious, it made it hard to taste the individual components.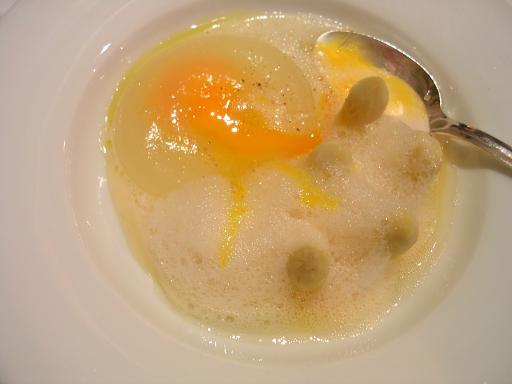 The "egg", after piercing with a spoon.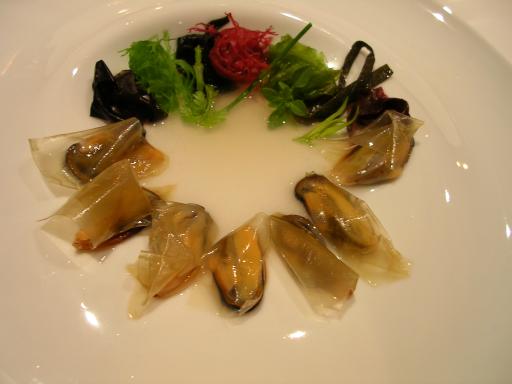 R's course 19: "mejillones de roca con 'gargillou' de algas"
("Rock mussels with 'gargillou' of seaweed")
Mussels wrapped in tangy "ravioli", with seawater juice and some oceanic/"fines herbes" herbs. R thought the tanginess and the oceanic flavors were just weird together.
---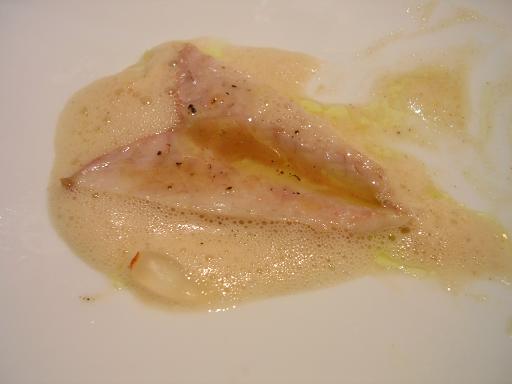 Course 20: "ventresca de caballa en aceite" ("belly of mackerel in oil")
Mackerel in escabeche. It didn't seem particularly inventive (though maybe my tired palate was missing something), but it was definitely a nice take on a local classic. The fish was the texture of a smooth paste, and it came with tiny pearl-like onions that somehow just tasted cold.
---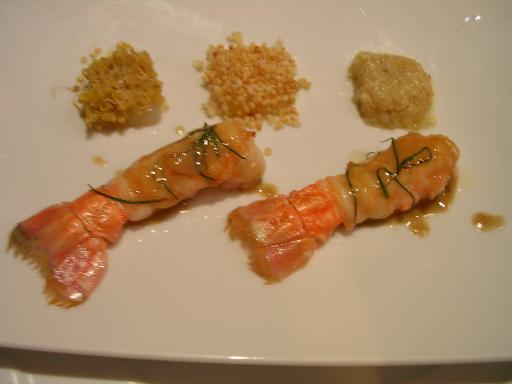 Course 21: "cigala con quinoa3" ("Norway lobster with quinoa3")
Lobster and lobster essence with three kinds of quinoa: sprouted, toasted, and "mushy". The first two are on a small square of a sweet jelly, which tasted a little like sweet peas. I think the threads of green on the cigalas were tiny strips of fresh tarragon.
---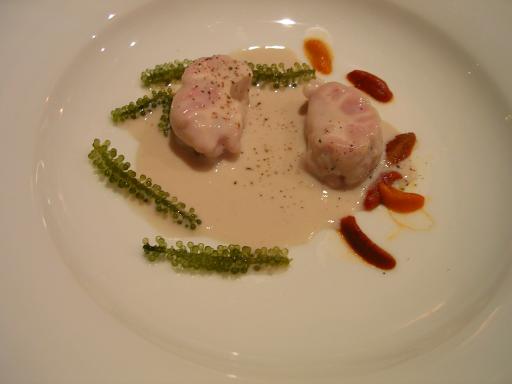 My course 22: "sesos de cordero con erizo y algas"
("Lamb brains with sea urchin and seaweed")
Okay, time for me to try something really weird. I spent the first twenty years of my life as a very picky eater, so over the course of the following decade I've been trying all sorts of new foods to make up for lost time. I had been willing to leave brains as one of those things that I might not go out of my way to try, but since it was offered here I couldn't let myself say no.
The brains did have a very soft "scrambled eggs"-like texture, as I'd heard them described, and the mouth feel was satiny smooth. But the organ meat flavor came on pretty strong after about ten seconds, and didn't let go quickly. I guess it's like foie gras but more so, both in the richness of texture and flavor. I can see why some people really like it, and I'm glad I tried it, but I think the four forkfuls I was served was all the brains I need to try.
The sauce they were served with was creamy, with a pure oceanic flavor like the seaweed and sea urchin. The sea flavors were fine, but I didn't see how they enhanced the brain experience.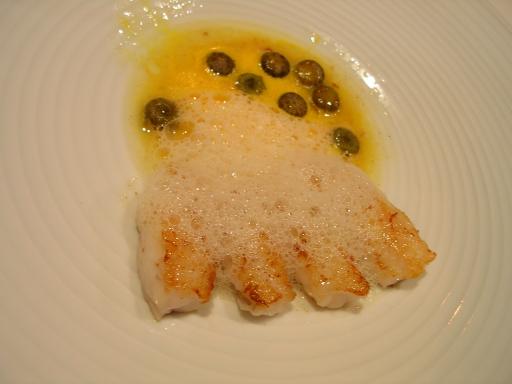 R's course 22: "'rapets' con yema al limón, margarita, aceite de piñon y mantequilla noisette"
("Monkfish with yolk of lemon, daisy, pine oil, and noisette butter)
Monkfish with citrus butter and some big fat round capers. R's only comment: "Brilliant."
---
The bread plates have been taken away, the crumbs have been expertly swept up. It's time for dessert.